Papa Rico's Italian Spice Packet – Mild
Papa Rico's flagship product. Our Mild Italian spice packets provide a sweet robust flavor to any red sauce.
This mild Italian spice embodies exceptional favors of black pepper and Italian herbs. Enjoy this perfect blend of flavors on garlic bread, add to meatballs, or even a rub for different types of meat!
The mild version is a blend of Italian spices, such as oregano. This is a perfect complement to any dish.
By purchasing this product, you contribute toward helping colon cancer patients and their families.
Description
Basil, Oregano, Sugar, Garlic Salt, Red Pepper and Black Pepper
Only logged in customers who have purchased this product may leave a review.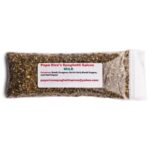 Papa Rico's Italian Spice Packet - Mild