Papa Rico's Italian Spice Packet – Hot
The Papa Rico's Hot Italian Spices Packet is packed with double the amount of heat. Add it to your classic red sauce to create a gourmet Italian dish right from home!
These hot Italian spice packets embody exceptional favors of heat, black pepper, and Italian herbs. Enjoy this perfect blend of flavors on garlic bread, add to meatballs, or even a rub for different types of meat!
By purchasing this product, you contribute toward helping colon cancer patients and their families.
Description
Basil, Oregano, Sugar, Garlic Salt, Red Pepper and Black Pepper
Only logged in customers who have purchased this product may leave a review.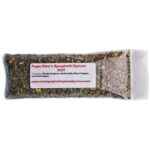 Papa Rico's Italian Spice Packet - Hot