Papa Rico's Parmesan/Romano Cheese
Our Parmesan Romano blend is our way of honoring the Italian tradition which made us so popular. Combining both Romano and Parmesan cheeses into a classic Sicilian blend of deliciousness, this ancient combination is perfect for any dish. 
It adds a certain refinement to the staggeringly successful Rockin' Parmesan. The stronger, saltier, more piquant flavors of Pecorino Romano perfectly complement the natural richness of Parmesan, resulting in a savory accompaniment for any dish!
By purchasing this product, you contribute toward helping colon cancer patients and their families.
Description
Parmesan & Romano Cheese
Only logged in customers who have purchased this product may leave a review.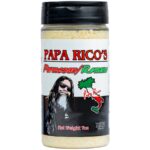 Papa Rico's Parmesan/Romano Cheese