Papa Rico's ROCKIN Parmesan Cheese
Our Rockin' Parmesan Cheese blend is sure to impress even the most discerning of palates. We worked tirelessly to discover the secrets to making a delicious parmesan cheese, in the same way we worked to discover the age-old secrets to a perfect red sauce. 
The results of our labor have arrived, and we couldn't be happier. An Italian classic with a modern twist, our Rockin' Parmesan delivers unparalleled umami flavor at a fraction of the cost of rival Parmesan blends.
By purchasing this product, you contribute toward helping colon cancer patients and their families.
Description
Parmesan Cheese, Oregano, Red Pepper, Parsley & Basil
Only logged in customers who have purchased this product may leave a review.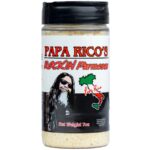 Papa Rico's ROCKIN Parmesan Cheese